Toy Story 4 is poised to be another major Pixar hit and that's a very good thing, since it was not a cheap movie to produce. We look at its budget.
Toy Story 4 is poised to be another massive hit for Pixar, but how much did it cost to make? In 2010, after Toy Story 3 premiered, few would have predicted there'd be a fourth installment in the animation powerhouse's flagship franchise. Many were convinced the trilogy had wrapped up in such perfect fashion, it was tempting fate to continue the series outside of shorts and TV specials. There was a healthy amount of skepticism Toy Story 4 could live up to the incredible promise of its predecessors, with some fans voicing concern after the first marketing materials debuted.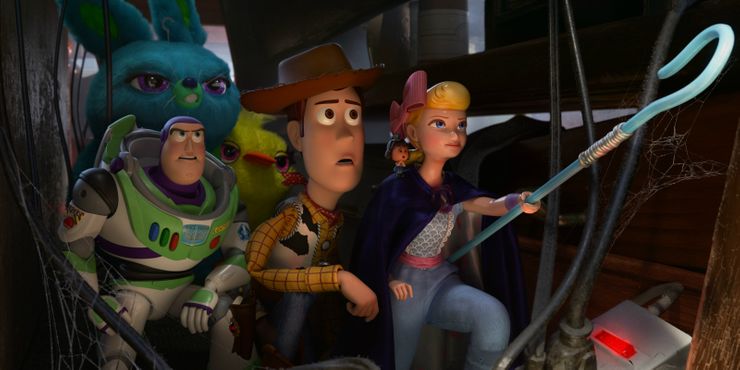 Fortunately, with Toy Story 4 about to hit theaters, the consensus is it's another Pixar home run, delivering a beautifully-animated family film that's equal parts funny and heartfelt. Bolstered by the enthusiastic word-of-mouth, the expectation is the film could break the all-time animated opening weekend record with a haul of $200 million or more. And it's a good thing Toy Story 4 is on pace to do very well, seeing that it wasn't cheap to make.
Disney never formally unveiled a Toy Story 4 budget figure, so we have to go back through Pixar history to come up with a rough estimate. The studio's previous sequels Finding Dory and Incredibles 2 cost $200 million to make, while Pixar's 2017 offerings Cars 3 and Coco cost $175 million. Given the popularity and status of Toy Story, it's reasonable to assume Toy Story 4 cost at least $200 million - perhaps more given the delays and script rewrites it endured.
This means Toy Story 4 cost more than a few live-action tentpoles from this year and has the same price tag as Godzilla: King of the Monsters and Dark Phoenix. That's a hefty sum of money, but one Pixar should have no problems recouping. Toy Story 3 is a member of the $1 billion club, and there's little reason to believe this fourth entry won't be able to replicate that kind of success. Not only is Toy Story 4 a bona fide critical darling, it's opening in an extremely barren marketplace. The last few major studio releases have significantly underwhelmed at the box office, paving the way for Toy Story 4 to have a huge opening and very successful run in theaters.